Faizan, co-founder of Imaan
Faizan (they/them) is an LGBTQ+ Muslim community organiser. In 1999, they co-founded the UK's first - and the world's oldest - LGBTQ+ Muslim organisation, Imaan. Recently they curated queer Muslim exhibits for the Barbican, the Bishopsgate Institute and for Queer Britain.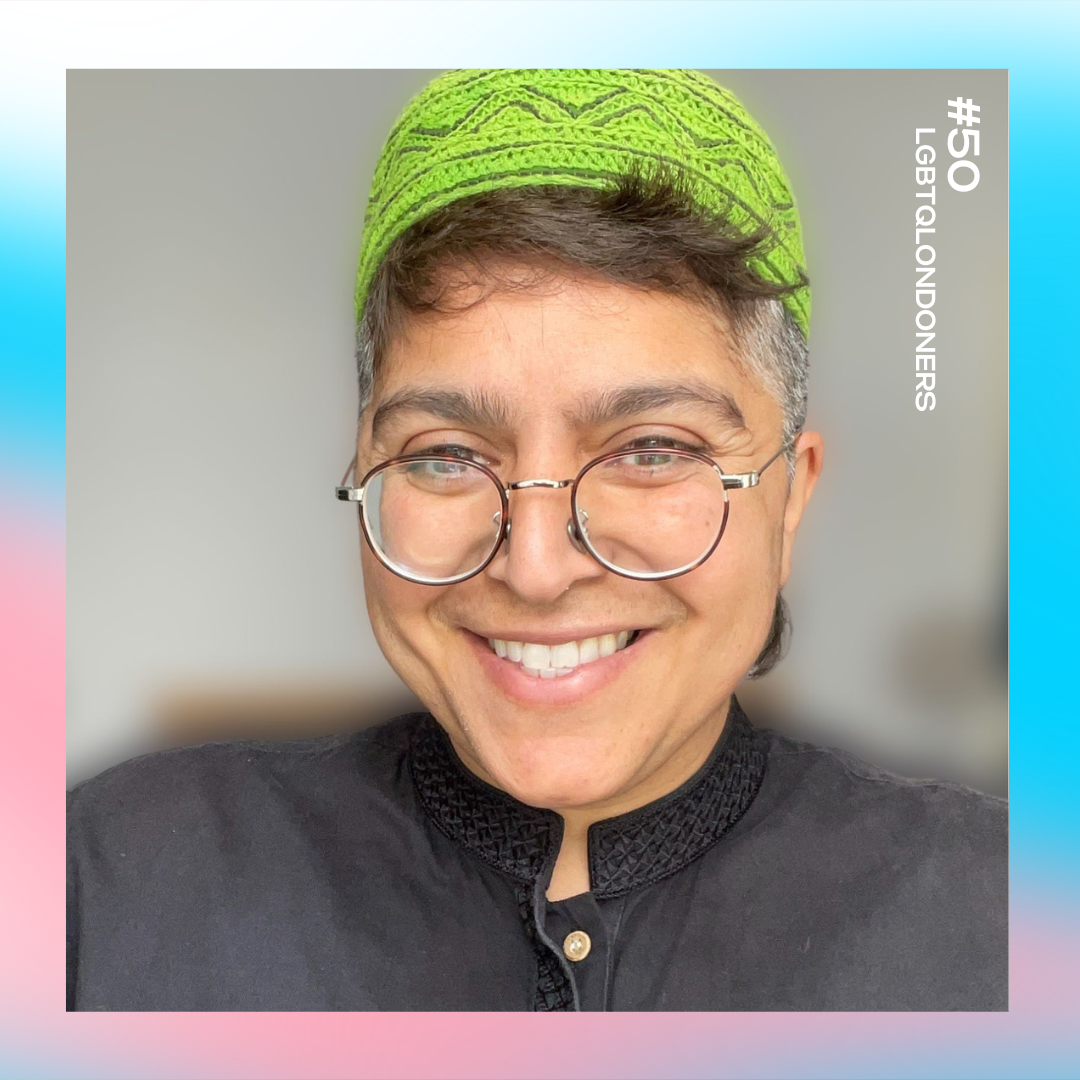 We asked Faizan to tell us about the founding of Imaan in 1999 and the charity's work to help reconcile faith with sexuality and gender identity.
It started from my personal situation in the mid/late 90s. I was in my 20s and realising that I was queer - something that was extremely difficult to face as someone from a culturally and religiously conservative background at that time. I knew no brown or black people who were queer, let alone Muslim. I was friends with one white gay guy from university, that was it.
As fate would have it a small piece was printed in the Pink Paper (now Pink News) from a gay Muslim activist from the US, asking if there were any gay Muslims in London who wanted to meet up. I went to that meeting in Wardour Street by myself in November 1999 - I was very nervous. There I met about 20-30 other LGBTQ+ Muslims - all strangers to each other but with of course so much in common. The following night, some of us met up again and decided to form a support group for LGBTQ+ Muslims and that's how Imaan was born - most of us are still close friends to this day.
At Imaan, we recognised quite quickly the power of community - it was validating and healing especially after what we had experienced individually in our lives until that point. We had all faced difficult situations, some had come through forced marriages, others had run away from home and others lived in fear of their families finding out. We found strength and solace in each other and so we wanted to provide that for other LGBTQ+ Muslims - and that became the primary function of Imaan: peer-to-peer support. When you are being supported by someone from your own background it has a greater impact, I've learned.
What developments have taken place for Imaan since its inception and how has the current political context influenced them?
We were spurred into action straight away and organised several international conferences which led us to build community with LGBTQ+ Muslims across the globe from the US and Canada to South Africa and across Europe, wherever we could find them via the internet which was still in its infancy in the early 2000's.
Those conferences gave us a space to explore and resolve important issues relating to LGBTQ+ Muslim identity from queer marriage and marriages of convenience to reconciling faith with sexuality and coming out: the pros and cons.
The political context for Imaan changed dramatically just a year or two into its inception with the horrifying terrorist attacks in New York on 9/11. Until that point Muslims were not a discernible demographic politically or socially in Britain but sadly, Islamophobia reared its ugly head and we were all suddenly confronted by prejudice - now on two fronts.
What is the most common misconception about being Muslim and queer, and how does Imaan address and work towards eradicating Islamophobia in the community?
The most common misconception about being LGBTQ+ Muslim is that there is a universality of experience; that we are all, bar none, oppressed and are in dire need of saving and that that help must only come from white non-Muslim people.
There are over a billion Muslims in the world which means millions of LGBTQ+ Muslims all from different walks of life, all facing different challenges. There are indeed swathes of us living under repressive regimes who need support and assistance on a global level, there are also others leading quiet, happy lives, at peace with the different sides of our identity and managing OK.
I think it's on us as the more privileged within our communities to offer help to the least privileged amongst us. That's why one of the things I've been most proud of with Imaan over the last twenty years has been bringing queer Muslims from different walks of life under one roof, to break bread together during Ramadan. It fosters community which can lead to great things.
It would be wonderful to see much more collaboration between queer Muslims groups and influencers as well as LGBTQ+ Muslims in leadership positions at the helm of making change.
The other misconception is - still - that we exist at all, that it's not possible to be LGBTQ+ and Muslim but that idea is (very) gradually being eroded and people are realising slowly that we are actually everywhere!
Tell us about a standout moment/achievement in the LGBTQI community in London and beyond as the co-founder of Imaan and a queer Muslim
At different points over the last twenty years, Imaan has challenged Islamophobia in the wider LGBTQ+ community. That's what the current Imaan exhibit at Queer Britain is about. It's three outfits that we wore in 2005 at Pride in London - it was the first time a very visible, in-your-face queer Muslim presence was featured so prominently. We gave a speech to 10,000 people at Trafalgar Square about the scourge of Islamophobia and about how the gay community at that point needed to be more inclusive. But even on that Pride march, queer Muslims experienced Islamophobic abuse, we were called terrorists by other LGBTQ+ people!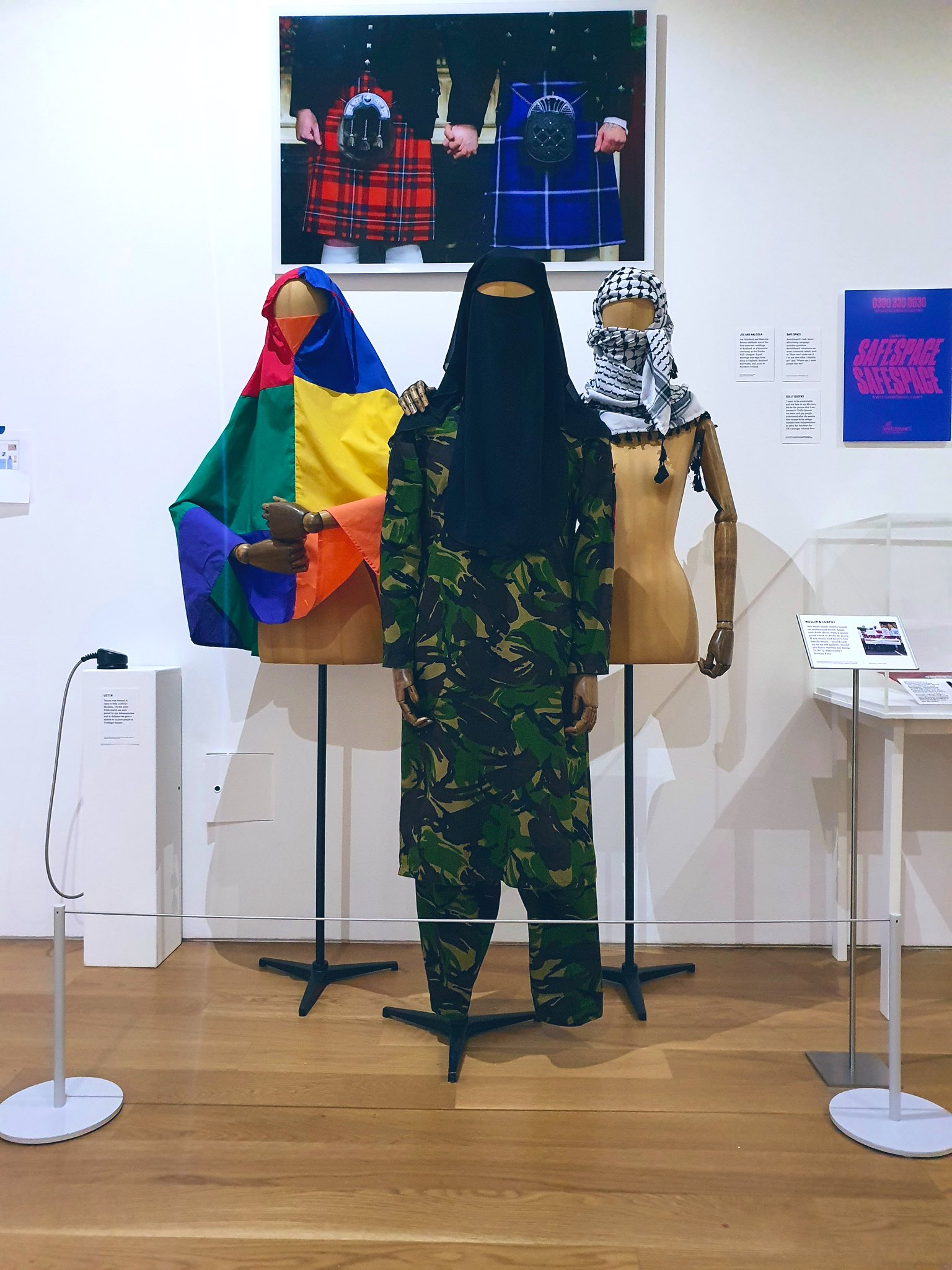 Outfits worn by Imaan members in 2005 at Pride in London, currently being displayed at Queer Britain
Source: @Faizan_Imaan 
What is the change you would love to see in our community?
Much more collaboration, cooperation, working towards common goals and being an example to our wider communities, both LGBTQ+ and Muslim.
You can keep up with Faizan's work on Twitter, Instagram and TikTok.
To know more about Imaan's services, please contact them via email.

Thanks to National Lottery players