Michelle Ross, Founder of CliniQ and Director of Holistic Wellbeing Services
To mark Transgender Day of Visibility, an annual event occurring on 31st of March, we're celebrating the outstanding contribution to improving the provision of health and wellbeing services in the UK for trans, non-binary and gender diverse people of Michelle Ross (she/they), founder of CliniQ and director of holistic wellbeing services.
Michelle has been involved with sexual health, HIV & well-being for over 34 years.  She is a member of IRGT: A Global Network of Trans Women advocating for trans issues in the international HIV response.
CliniQ is the UK's first sexual health and well-being clinic aimed at supporting the trans community and their partners. Since its inception 10 years ago, CliniQ's trans-led team provides sensitive sexual health screening and access to counselling, drug and alcohol support and advocacy in a safe, confidential space for those who may not feel comfortable accessing mainstream services.
London Friend has proudly supported CliniQ since its launch and continues to take referrals for counselling and drug and alcohol support for CliniQ clients.
Photo: Michelle Ross on the Terence Higgins Trust phone lines in 1990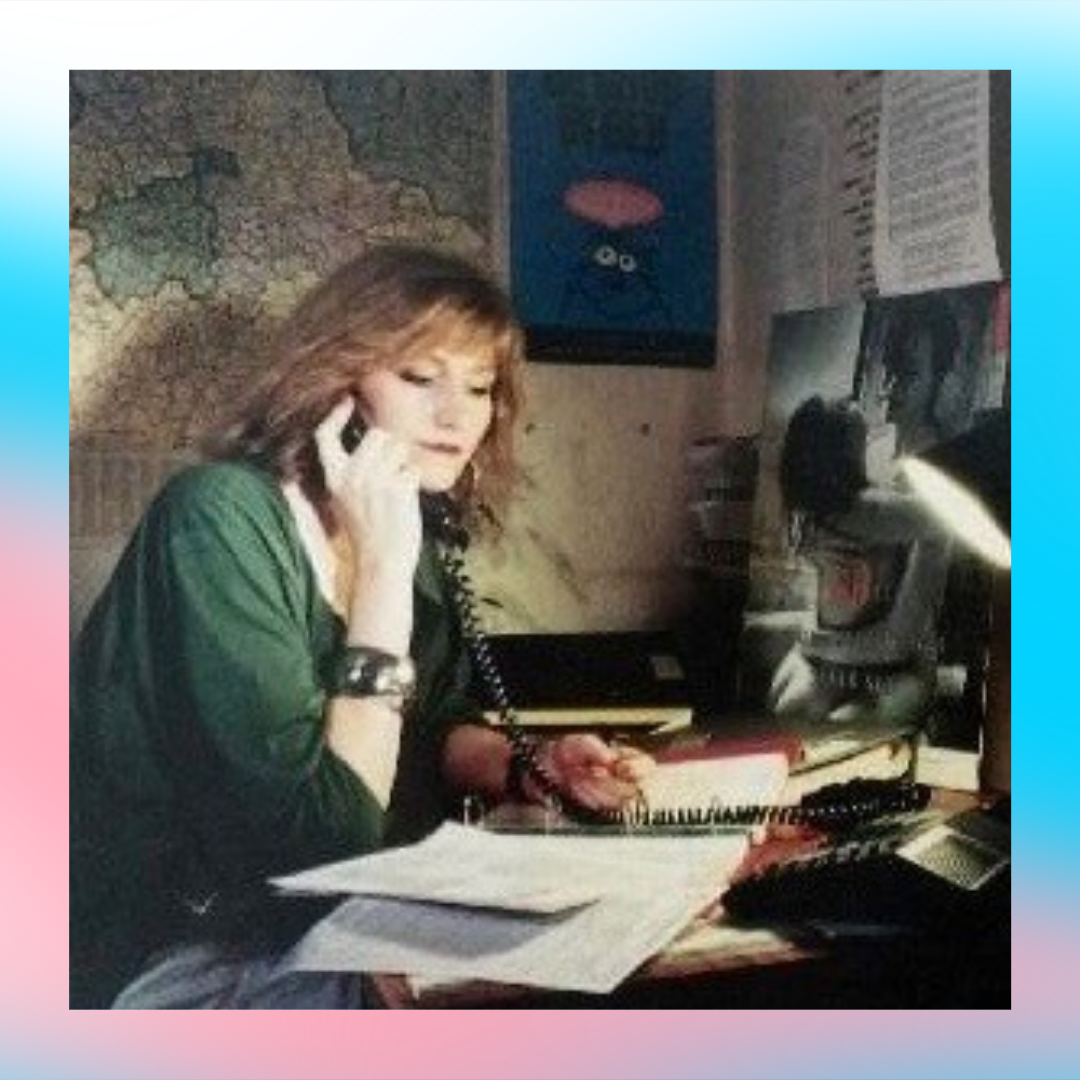 We asked Michelle to talk about her work on trans sexual health and wellbeing and the successes of CliniQ
"I am very much involved in making PrEP available to all who need it. I was on the Advisory Board for the PrEP Impact Trial, this was before PrEP was available on the NHS. My focus for 34 years has always been on HIV. I was becoming a psychotherapist because of my involvement with HIV at Terrence Higgins Trust from 1988 for 27 years.
I founded CliniQ because there was a very real need to have a space there for trans, non-binary and gender diverse people to have informed services for and by trans folk.  I and CliniQ are very much involved in ending HIV by 2030 which means ending new HIV transmissions by then - we all,  the HIV and Sexual Health sector are working hard to bring this about! 
CliniQ was set up in 2012 although I had the idea for such a space since 2010 as it took a couple of years to formulate such a service and how it would be delivered.  So CliniQ is now 10 years old! We have worked in Bangkok, Durban South Africa, and Amsterdam mostly at International AIDS conferences. I know that CliniQ has inspired others to set up similar services - it is what we wanted: Local Services by Local People."
What is the change you'd love to see in our community?
I would like to see trans and non-binary people be able to access services even more local to them - not only in specialist centres. I want people to be told, "Yes, we can do that for you" rather than being told  "No, we can't do that you will have to go to another city miles away!"
CliniQ has a wonderful partnership service with King's College Hospital every Tuesday - we are also getting involved with other health services there to bring inclusion in all health and wellbeing services. Our therapy services are independent and now online and have been throughout COVID.  The need from the communities was huge and still very much is. 

Thanks to National Lottery players