Real Chemistry – Sunday Sessions Workshops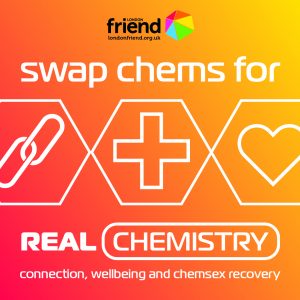 Real Chemistry is aimed at men taking the next steps in chemsex recovery, and the Sunday Sessions workshops have been developed to provide both a workshop, where the focus is on various themes to support chemsex recovery, and a social space to support connection & wellbeing.
If you live in London, have already made some changes to your chemsex engagement and are interested in building healthy relationships with other men who may have had similar chemsex experiences, then maybe joining the Sunday Sessions community will benefit you.

Sunday Sessions workshops take place monthly. For more details please contact antidote@londonfriend.org.uk

Real Chemistry – Sunday Sessions Online Workshops
If would like take part in some of the past workshops we have run at Sunday Sessions, then our website contains a series of self-guided themes and exercises for you to work through on your own, at home. and can be found here.