Real Chemistry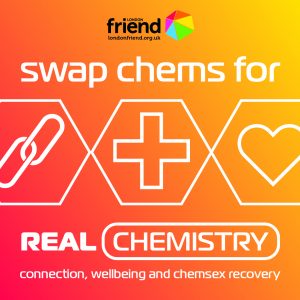 Welcome to Real Chemistry, support for men moving on from problems with chemsex.
When problems occur relating to chemsex the impact can be felt on our mental and physical health, as well as on our relationships with those around us. Whilst using chems you may have felt disconnected from friends and loved ones and stopped doing other leisure activities you enjoy.
Real Chemistry is about helping you take the next steps, building new relationships with yourself and others that don't centre around chems. It's about finding more rewarding connections – with and without sexual partners – and reengaging with activities that help you feel the real-world chemistry they bring.
Real Chemistry – Connection, Wellbeing, and Chemsex Recovery.
Real Chemistry is aimed at men taking the next steps in chemsex recovery. It's a resource to help you work through some of the commons questions and issues to help you connect with others in your communities away from the chemsex environment.
Each theme provides information and resources to help guide you through an issue relating to chemsex recovery.
Real Chemistry has been developed by Antidote, London Friend's LGBT drug and alcohol service, with the input of men attending our Sunday Sessions, a workshop and social space for men moving on from chemsex. A selection of workshops is also provided for organisations and groups to use free of charge.
Real Chemistry has been developed thanks to funding from the HIV and sexual health Innovation Fund from Public Health England and developed with the support of our partners SASH.

Real Chemistry - Sunday Sessions Workshops
The Sunday Sessions workshops provide a space to  develop connection, to support wellbeing, while maintaining a focus on chemsex recovery.  Further information can be found here.

Real Chemistry Online Workshops
If you would like to access our Real Chemistry online workshops for support around chemsex with a focus on themes that may support you moving forward, then you can do so by clicking here.

Real Chemistry for Professionals
Information about the Real Chemistry manual, which is free to download and contains 14 workshops, each covering a different topic relating to chemsex recovery, can be found here.