Real Chemistry For Professionals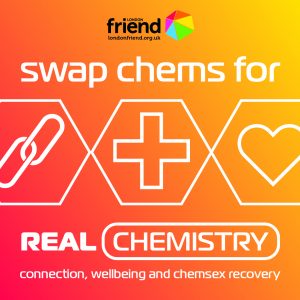 Part of our Real Chemistry series – connection, wellbeing and chemsex recovery.
We're really pleased to be sharing the Real Chemistry Manual with you as professionals, and hope that we answer any questions you may have.

What is the Real Chemistry Manual?
The Real Chemistry manual consists of an introduction to the Real Chemistry project, as well as 14 workshops each focusing on an issue relating to chemsex recovery.  These have been developed based on the key issues that participants attending the workshops were experiencing as barriers to moving forward.  Also, a key aspect of Real Chemistry is encouraging new, chem-free connections so we recommend workshops are centred within a longer group, which encourages participants to form supportive peer-to-peer recovery relationships, a sense of community & belonging and promotes engagement in new leisure activities. 

Who is the Real Chemistry Manual for?
This manual can be used by other drug and alcohol, sexual health, LGBT community organisations or similar services supporting chemsex recovery. 
The workshops do not offer training for professionals unexperienced in chemsex.
They should be delivered by facilitators working under supervision, with suitable experience of delivering group programmes and with existing underpinning knowledge of chemsex and the social, sexual health and mental health needs of gay, bisexual, and other men who have sex with men. 
The wellbeing and clinical governance for workshop attendees is the responsibility of the facilitators and the organisations they are working on behalf of.
If you feel your organisation would benefit from specialist training, to support in running the Real Chemistry workshops, then click here for our training page.

How do I use the Real Chemistry Manual?
As professionals, the manual provides access to all of the resources you require to deliver the workshops within your own services.  
For each workshop there is:
A session plan - detailing learning objectives & outcomes, as well structured guidance, key questions, and tasks for participants to engage in. 

A content script - with each heading referred to at various points in the session plan, whereby the content under each heading can be read to the participants.

Additional worksheets - for the written tasks within some of the session plans.

Is there a fee for using the Real Chemistry Manual?
No.  The workshops and materials in this manual can be used free of charge by services and groups providing support to people moving on from problems with chemsex.   We only ask that you please credit London Friend's Antidote service.

How do I get the Real Chemistry Manual?
We have created a downloadable PDF version that you can access simply below: