John Yates-Harold,  former volunteer at London Friend, UK Primary Schools Diversity Trainer at Empowering Diversity, Hate Crime Advocate
John Yates-Harold (he/him) is a former London Friend's volunteer, a progressive educator and independent consultant specialising in effectively challenging prejudice-based bullying and a hate crime advocate and campaigner.
John worked closely with Stonewall on their "Different Families" resources and then on their "FREE" DVD for which he wrote lesson plans.
Ofsted recognised John's work at Jenny Hammond as an example of good practice in their report, "Wouldn't It Be Boring If We Were All The Same?"
In 2006 he was promoted to Deputy Head Teacher at The Jenny Hammond Primary School. He was among 16 school practitioners from across the country who took part in the "No Outsiders" project. This 28-month project sought to effectively challenge homophobia in primary schools through age-appropriate picture books.
John was honoured to be included on the inaugural World Pride Power List in 2012 being described as a "progressive educator".
He has delivered training at Stonewall's Education Conferences; NUT/NASUWT Conferences; to PGCE students at the University of East London; and several primary schools in London.
Aside from teaching, John co-founded the London Gay Men's Chorus (now 'Choir') in 1990. He edited and contributed to a book of poetry: "How Can You Write A Poem When You're Dying of AIDS?" (publ. Cassell 1993). He composed a requiem mass, "Undying Heart: A Requiem for AIDS" which was performed at the Free Trade Hall in Manchester in 1993. He has written 2 ½ operas for children including "The Story of the Eldest Princess" as well as countless songs in English, German and Spanish.
John recently left London for the country and now lives in Derbyshire, with his husband and two children. He is looking forward to sharing his experiences in effectively challenging homophobia with schools, universities and other settings.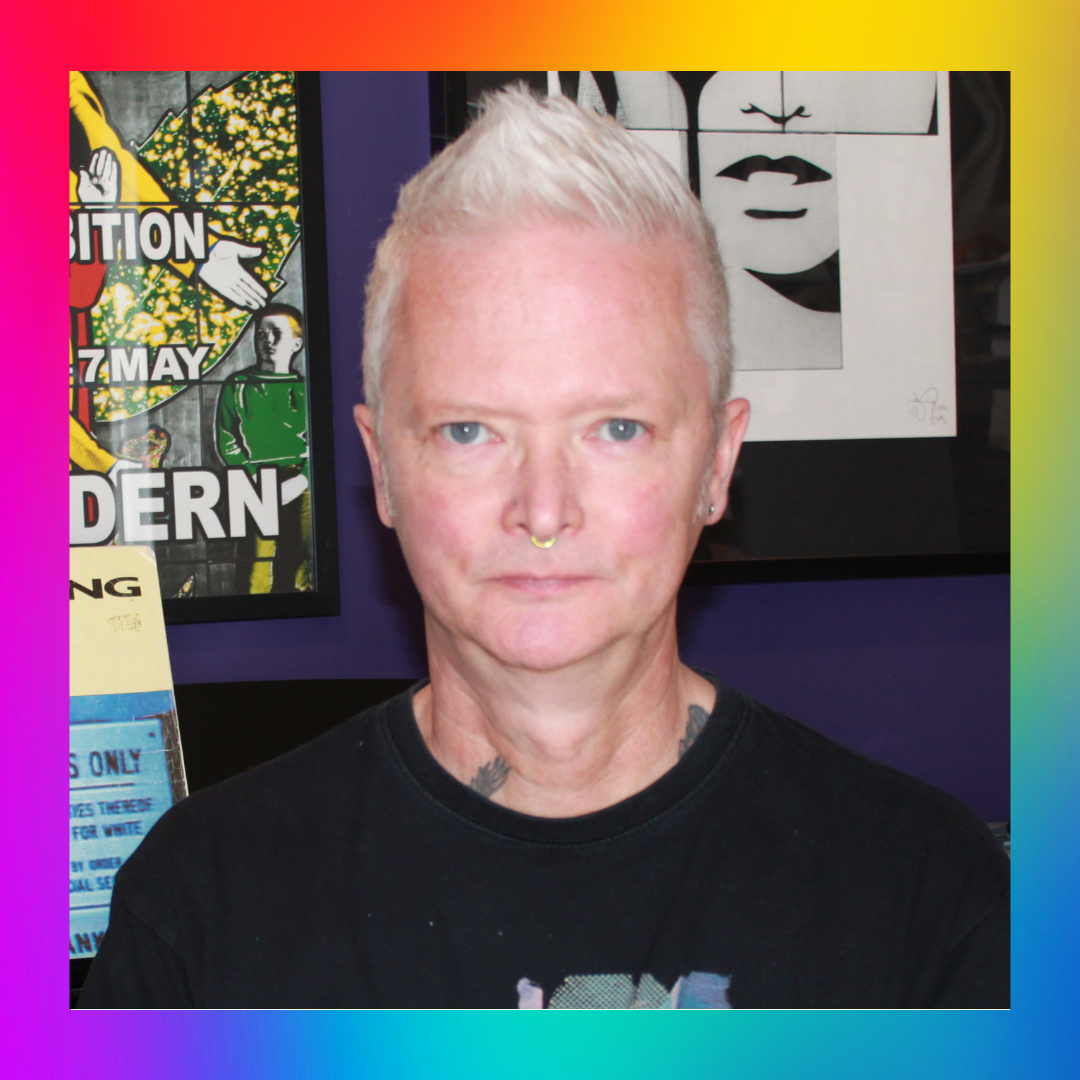 We asked John to share his story and experience of joining London Friend as a volunteer at the Thursday night men's group, "Junction" in the 90s 
I came to London Friend as a broken man. I had endured an intense, violent, abusive relationship for more than 2 years and, when my ex had rearranged my face, I finally fled.  I packed whatever I could into a friend's car and moved out of London to Watford to live with someone I worked with.
I found London Friend through the listings in 'Gay Times' and decided I needed to heal by being with my community. I decided to volunteer and attended an initial meeting and then several training days. I found my tribe. I found where I belonged and threw myself into volunteering at the Thursday night men's group, "Junction".
I quickly made friends with other volunteers and enjoyed working with them and the variety of service users who came along hoping to make friends over a cuppa and biscuit.
I really enjoyed the mix of the social side as much as the interesting topics we discussed in the back room.
I had been at the group for a few months and had begun to feel like my old self again. The group really helped me to build back my self-esteem and self-confidence.
... that led to the fateful evening of meeting his lifelong partner of 32 years Steve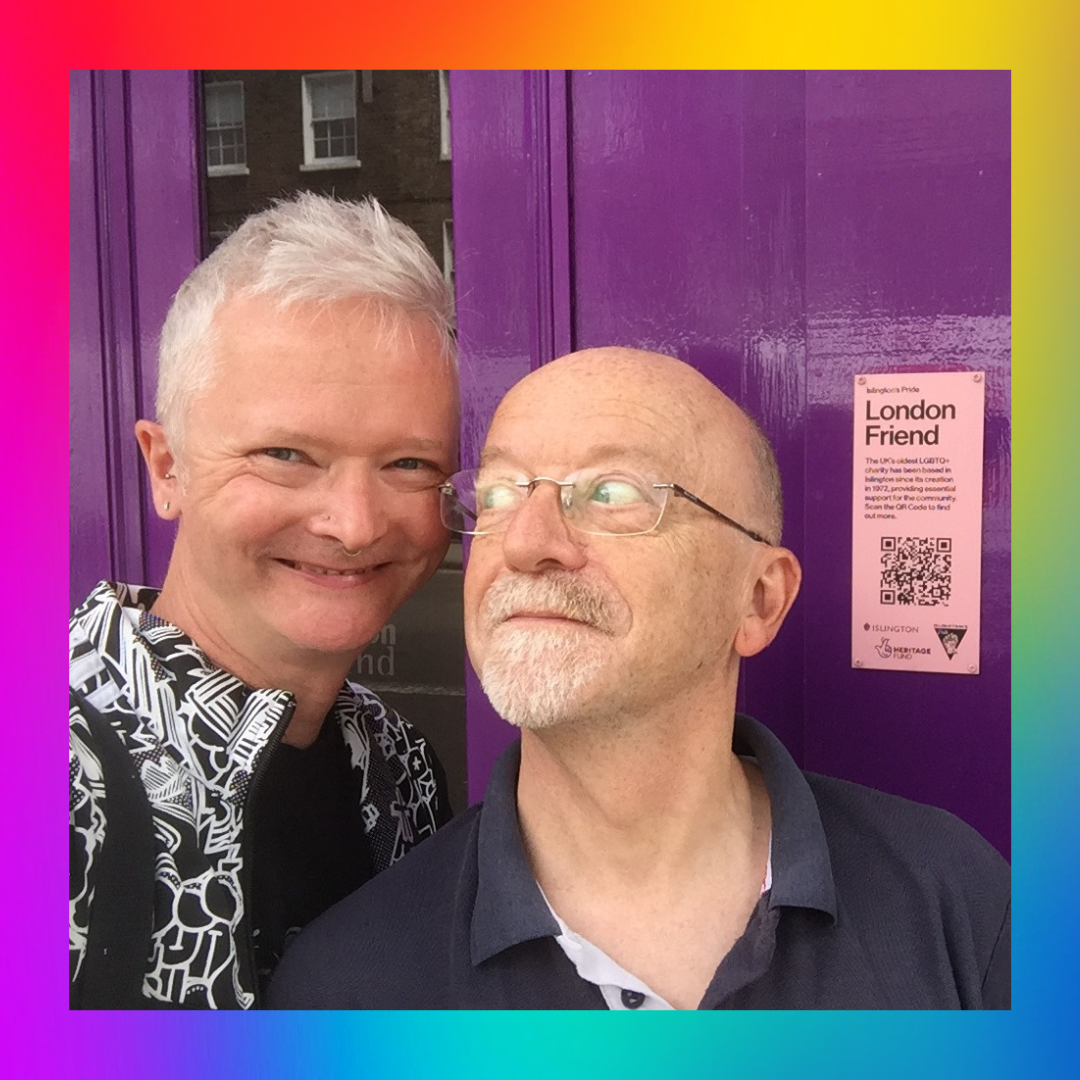 One night, I happened to open the door to a new service user; made him a cup of tea; and then stood with him for the whole night telling him my life story.
The following week he came back, and I apologised for stopping him from socialising with others and attending the back-room discussion. We chatted again briefly and, again, a week later he came back. This was Steve and I felt like I'd known him for ages.
As volunteers, we needed to maintain proper boundaries between ourselves and service users. I had a serious conversation with the group lead as I realised, I was starting to have feelings for this new service user. He listened and we discussed with London Friend how this situation could be properly managed.
With permission, we began to explore our relationship outside of the organisation.
He called me and we arranged to go out on a date. A few weeks passed, and we went on a few more dates before he came over to Watford for dinner. The next morning, I asked him if we might continue seeing each other and perhaps start a proper relationship. That was August 4th, 1990, and we've been together ever since.
Steve and I celebrated our Civil Partnership on August 4th, 2006, and we extended our family by adopting our two children in 2014.
Photo: John with his husband Steve at London Friend premises, 86 Caledonian Road, 4th August 2021 (Image: John Yates-Harold)
John, tell us more about the momentous year of co-founding the iconic London Gay Men's Choir 
1990 was a massively important year. Not only had I left my abusive ex; found London Friend; found the love of my life; but also, this was the year I co-founded the London Gay Men's Choir with another group member, Louis Loizou. A few of us met at the group and rehearsed in the basement of London Friend. We performed our very first concert on the ground floor at Christmas 1990 singing Christmas Carols accompanied by Jack on the accordion.
I was already working as a Music Teacher at a primary school down the road in King's Cross, so I became the Musical Director of the choir while Louis became the conductor. Very quickly, the choir grew in numbers with more people joining from "Junction" as well as friends and acquaintances. We moved to rehearsal spaces at the Holborn Centre for the Performing Arts and then as the choir grew even further, we moved to a more permanent home in the basement of Finsbury Library.
In 1992, I began writing my requiem mass, "Undying Heart: A Requiem for AIDS" specifically for the choir. This was performed at the Free Trade Hall in Manchester on October 30th, 1993, with performers including Peter Tatchell, Jimmi Harkishin, Gordon Warnecke and Georgina Hale reading poetry I had set to music in between the movements of the mass. It was a successful evening and I have a wonderful live recording of the event which I treasure.
That week in October was momentous. Not only did we perform my requiem but, the week before, on Sunday 24th of October, the choir sang "Go West" with the Pet Shop Boys on stage at the London Palladium as part of The Equality Show, a fundraising event in aid of a new charity that was being set up which you may have heard of: Stonewall, campaigning to equalize the age of consent for gay and heterosexual people in Britain.
... followed by years of inspirational work and immense contribution to the LGBTQ+ community in London and beyond as a 'progressive educator' and a former hate crime advocate for Derbyshire LGBT+ (former Derby Friend)
My work with the choir came to an end in the summer of 1994. I devoted my time to writing and performing mainly in fundraising concerts at London Lighthouse. My most recent musical project has been a collection of songs in Spanish which I wrote, lyrics and music. This is available to listen to via Spotify. Type my full name in and search for "Diez Canciones Españolas".
In more recent years, my classroom teaching career blossomed into Deputy Headship, and I began working more intensively in the area of equality, diversity and inclusion initiatives through the original "No Outsiders" project.
After we adopted our two children in 2014, we decided to leave London.  We now live in Derbyshire and ironically, my life has come full circle as I have worked for Derbyshire LGBT+ from 2018-2022 (formerly Derby Friend). I run groups for the over 50s which is very reminiscent of the volunteer work I did at London Friend, and I also occasionally run our Thursday evening men's group, "Reach Out".  I deliver training in schools with my resource, "Kings, Princesses, Ducks and Penguins", which uses picture books and short novels to explore gender and sexuality. Recently, I also launched our accreditation scheme, the "Rainbow Partnership".
Had I not found London Friend when I was at the lowest point of my life, I can honestly say that I wouldn't be where I am today: I have the husband I always dreamed of; the children I always hoped for, and a job I love more than any other I've ever had.
What is the change you'd love to see in our community?
It's not so much the change in our community but the way that others treat our community. We're still discriminated against in goods and services; hate crime is still a massive issue that affects us all; and, while we have many more Pride events than ever before, for the other 364 days a year, the general lived experience of many in our community is still horrendous.
I don't want equality, I want equity. I want the needs of our community understood by those who have the power to effect change for the good. I've fought all my life for acceptance, for better treatment by the law. We still need to stand strong as a community, standing shoulder to shoulder. Our fight is not over.

Thanks to National Lottery players