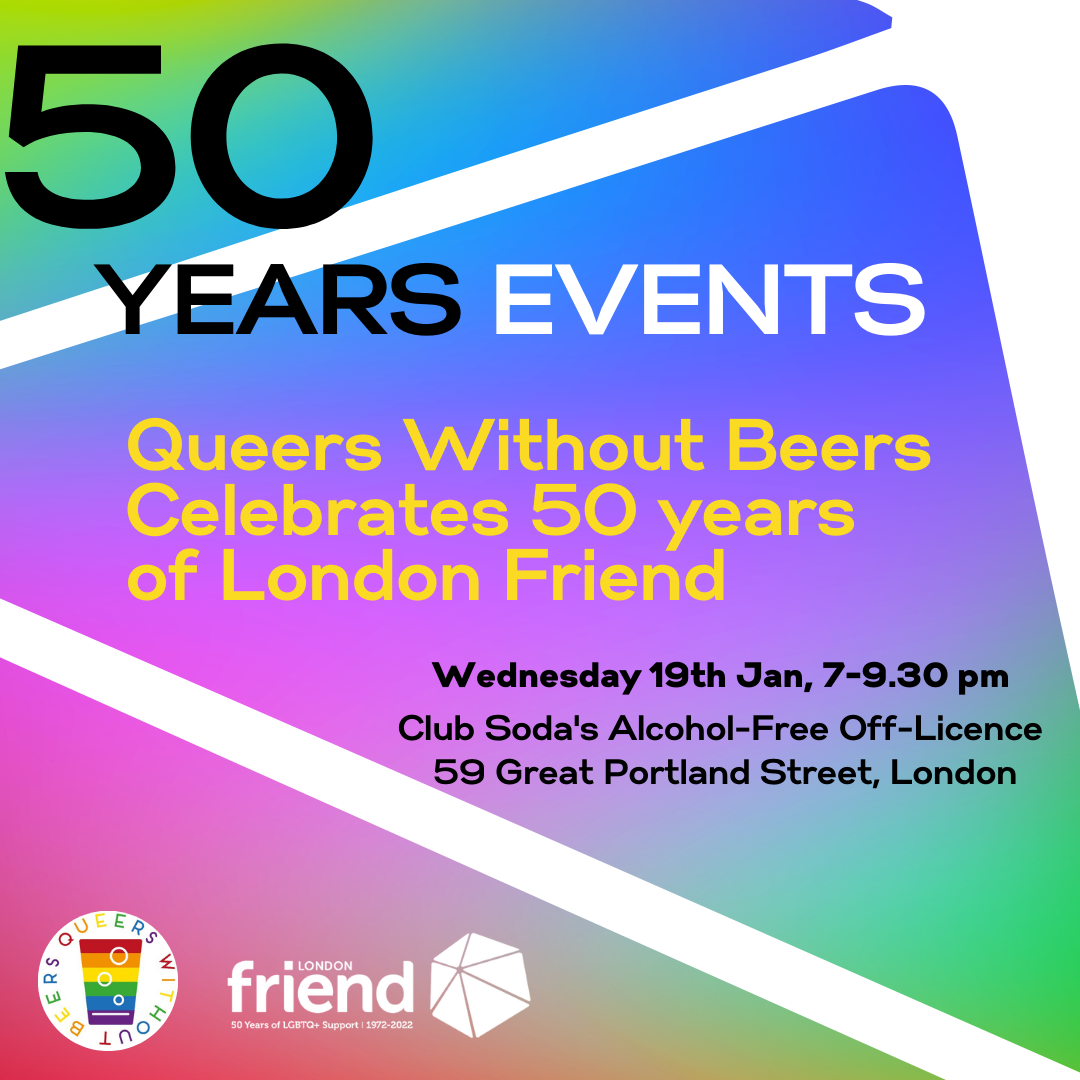 Queers without Beers celebrates 50 years of London Friend with a special party on 19th January, 7-9.30pm*, in Club Soda's alcohol-free off-licence on Great Portland Street.  
We will have a wonderful evening of inspirational guest speakers, compered by Scott from Proud and Sober, amazing alcohol-free cocktails by Anita from Lyre's, and the legendary Queers Without Beers pop-up bar!
Book your tickets here (free with an optional donation of £3 to cover organisational costs)
*The shop will be open from 6pm for you to come in and sample some of the amazing drinks we're stocking in the Offy and there will also be a 10%  discount for anything people want to buy from the shop all evening. 
Speakers:
Scott Pearson, Proud and Sober
After embarking on his own journey to give up alcohol, Scott (he/him) set his sights on creating Proud and Sober, a social and online platform that encourages open dialogue about booze and what it means to be alcohol-free.
Laura Willoughby MBE, Club Soda
Laura (she/her)  is of the co-founders of Join Club Soda, the world's first mindful drinking movement, helping people change their drinking whether they want to cut down, stop for a bit, quit - or even stick.
Monty Moncrieff MBE, CEO London Friend
Monty (he/him) joined London Friend in 2011, and was appointed Chief Executive in 2012. He has been working and volunteering with LGBT organisations for over 20 years, starting as a helpline volunteer and subsequently a trustee with Switchboard in 1996. In 2001 he joined Turning Point to develop their LGBT drug and alcohol work, and the following year established Antidote, the UK's only fully LGBT run specialist drug and alcohol service, which is now managed by London Friend.
Danielle St James, Not A Phase
Dani St James (she/her) is the co-founder of Not A Phase, a charity set up to help trans people across the UK, she is proudly Welsh but based in Central London. Dani is 2 year sober and is loving every minute of it.
Tom Ana, London LGBTQ Community Centre
Tom Ana (they/them) is the Pop-Up Centre Assistant Manager at London LGBTQ+ Community Centre. They worked with a number of grassroots LGBTQ campaigns, as well as for larger groups such as the International Day Against Homophobia, Transphobia and Biphobia. They have a background in support work, having previously worked in homelessness and with children in care.
There will also be a 10% discount for anything people want to buy from the shop all evening.
If you're not able to come to this event, you can come down and visit the offy anytime until the end of January. There's an amazing range of drinks available in store, plus our friendly, helpful team are on hand to give their advice and offer samples.
Note: If there are new covid restrictions in place by then we will move QWB celebrates 50 years of London Friend online – your ticket will still be valid – and there will be an option to purchase a discounted a box of drinks that we will send out to you. Online the event will include the speakers and there will be a cocktail masterclass, all on zoom!

Thanks to National Lottery players