Kate Martin, former Chair of London Friend
Kate was on the London Friend Board of Trustees between 2013 and 2021 and was our Chair for 5 years from 2016.
Throughout her career, Kate Martin (she/her) has pioneered ways of working alongside young people to promote lived experience, empowerment, and engagement in shared decision making and collaborative practice across education, social care, health, and mental health.
She is particularly interested in exploring the underlying issues and dynamics that enhance or undermine coproduction and decision-making, including power, epistemic injustice, and identity.
Kate Martin is also a stand-up comedian whose experience in mental health gives fuel to her confident, high-energy storytelling combined with razor sharp observations of life's quirks through queer eyes.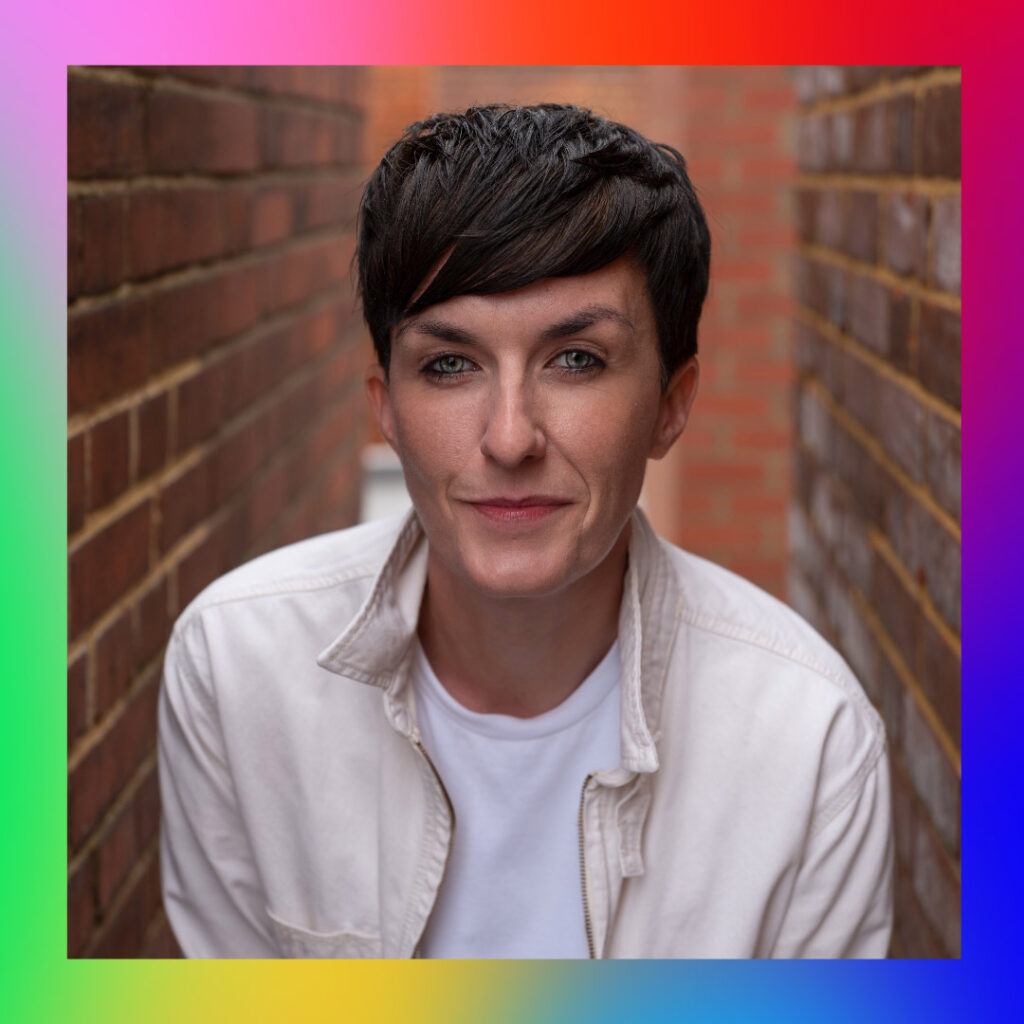 We asked Kate to talk to us about her history with London Friend as a Chair of Trustees and her work to support young people's mental health and the LGBTQ+ community in London
"It was an organisation like London Friend that helped me to come out and learn to be proud of who I was over 25 years ago (how can it really be THAT long ago… gulp). As cheesy as it sounds, it was a real honour on the Board of Trustees for 8 years and Chair for 5 of those. 
I have worked in mental health all of my career, working alongside young people to speak up and influence decisions that affect their lives and communities, improve the services they use, and shape policy and research that affects them.
It has been incredible to have been able to play a small part in the amazing and critical work London Friend do to support the mental health and wellbeing of LGBTQI people across London. London Friend truly place the needs and voices of the staff, volunteers and service users at the heart of everything they do."
"What is the change you'd love to see in our community?"
I hope to see the rights that we have hard fought for as a community become more equally experienced by all. We have come a long way and have much to celebrate… but we know this progress isn't equally shared by all. Bi and trans women, people who are racialised and who experience mental health problems (amongst others) are, for example, experience higher levels of discrimination or have less access to appropriate services for their physical and mental health. I hope we continue to stand together and fight for equal rights and safety for all members of our community and continue to celebrate how fabulous we all are!

Thanks to National Lottery players