Laks Mann, award-winning Diversity & Inclusion Champion, Mayor of London appointed Equality, Diversity, & Inclusion (EDI) Advisor to City Hall, Trustee and LGBTQ+ Lead for South Asian Heritage Month (SAHM), Trustee for caba wellbeing charity, Founder of Gaysians UK
To mark South Asian Heritage Month 2022 (18th July - 17th August), we're celebrating the outstanding contributions and leadership in increasing the visibility of the South Asian queer community in the UK of Laks Mann, a Trustee and LGBTQ+ Lead for SAHM and Founder of Gaysians UK.
Laks Mann (he/him) is the LGBTQ+ Lead for SAHM, which is a national celebration about reclaiming the history and identity of British South Asians and showcasing how their influences permeate present-day Britain's DNA.
Laks is a Mayor of London appointed Equality, Diversity, and Inclusion Advisor to City Hall, where he advocates through an intersectional lens of race, ethnicity, faith, LGBTQ+, and working class lived experiences.
Laks is the Winner of the LGBT+ Positive Role Model Award 2020 at the prestigious ITV National Diversity Awards. Laks was a shortlisted Finalist at The Rainbow Honours 2022 and is a Pride Life Global Inclusion Advocate. Laks was listed in the UK's Top 30 BAME Leaders 2020 by the University of Oxford, House of Commons, and OBV.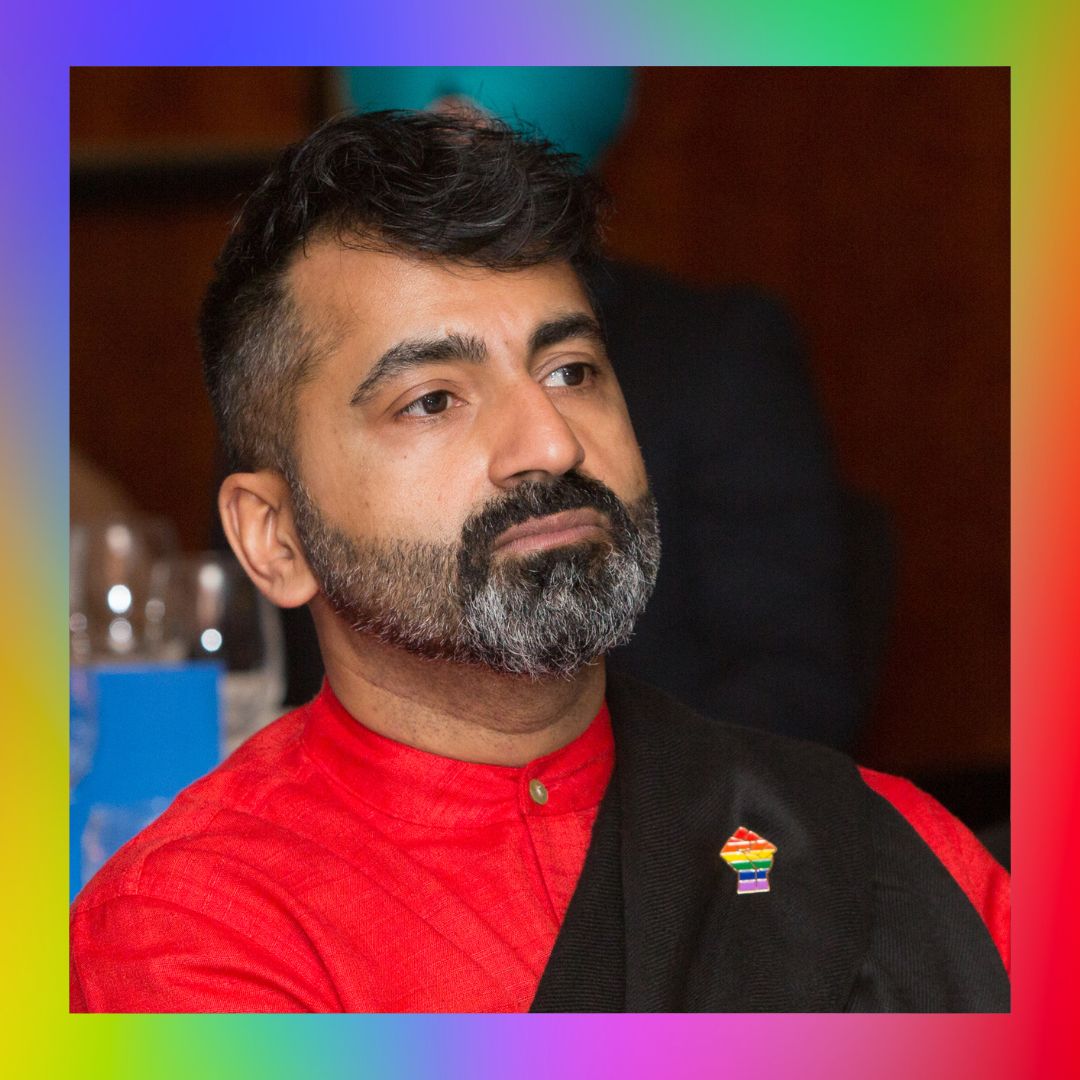 We asked Laks to talk about his inspirational work in improving visibility and representation, challenging stigma and the stagnant narratives of South Asian queers and celebrating South Asian LGBTQ+ culture, history, and the community's successes
My work as a Trustee and LGBTQ+ Lead for South Asian Heritage Month has ensured South Asian queer narratives have been interwoven into SAHM's fabric since it launched.  
My vision for SAHM is for it to be at the vanguard of decolonising mindsets, highlighting the rich history of South Asian queerness, and celebrating the achievements of Brown queer diaspora communities. 
In 2019, I attended SAHM's concept launch at the Houses of Parliament where its ground-breaking potential was obvious. I then reached out, and over chai with a Co-Founder, emphasised how SAHM could seize the opportunity to be inclusive of Brown queers from the outset; a beacon of diversity emitting a powerful signal of desi LGBTQ+ belonging.
Photo credit: Raj Gedhu
I later joined SAHM's team, given my role as a Mayor of London EDI Advisor and the Founder of Gaysians UK, my brainchild from 2013, which I launched at London Pride 2017.
I was determined to launch Gaysians at Pride, as 2017 marked the 70th anniversary of India's partition and independence/freedom from colonisation. Partition also resulted in the oppressive S377 colonial penal code continuing into India's newly formed democracy. It was also the year the UK celebrated the 50th anniversary of (partial) decriminalisation of homosexuality in England & Wales. 
(Note, Delhi Supreme Court's landmark judgement struck down S377, September 2018.)
This juxtaposition of anniversaries galvanised something within me, a British-born gay guy of Indian-Panjabi heritage, who enjoyed legal protections and social freedoms in my birth country, yet who would be criminalised in my motherland because of its inherited discriminatory colonial laws.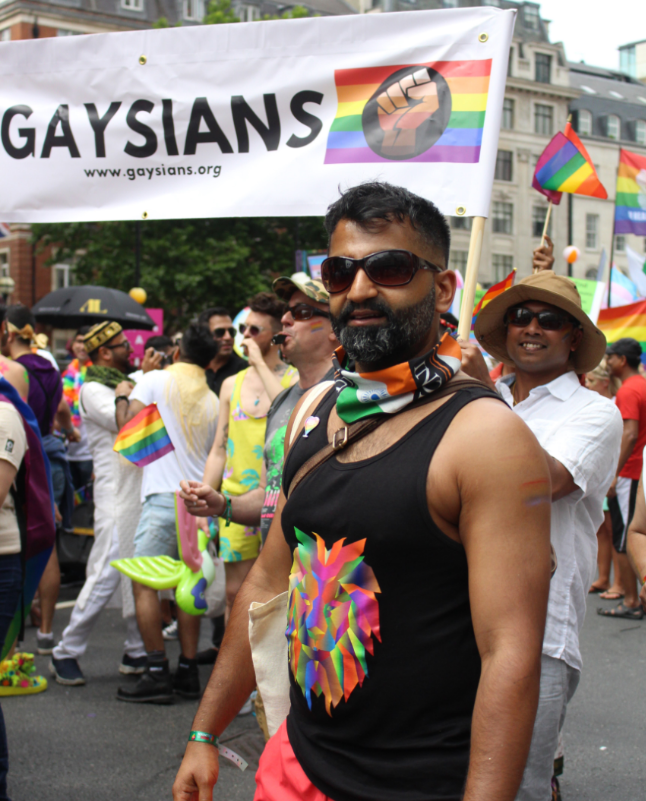 I created Gaysians to amplify LGBTQ+ South Asian narratives under the banner 'Queer.Asian.Here', which was a game-changer and pivotal in turbo-charging a resurgent Brown queer movement.
Many queer British Asians had links with others, but to me, the community was word-of-mouth. I felt it had never fully transcended beyond regions/groups, and desi queer visibility was not cutting through the stagnant narratives still within our South Asian communities.
I also sensed desi queers were becoming more confident, vocal, and visible, with some outstanding work being done by many pioneers. Still, to me, some of these efforts were niche, underground, and were not getting the recognition they deserved from the wider LGBTQ+ community.
I wanted to connect as many people as possible so that collectively we could visibly demonstrate how united, important, and influential the queer British Asian community were becoming. I was all about creating a movement, and I made a critical decision to hard launch in 2018 on a womxn's platform for our first event. It was branded 'Desi Lesbians' and subsequently got picked up by the Women of the World (WOW) Festival!
How has your work supported changing the narrative and challenging stigma in the South Asian queer community?
All-too-often stigma, shame, and peer pressure can shape an individual's sense of belonging, and self-worth, and negatively impact their mental health and wellbeing. To combat this, I have consistently challenged the stagnant narratives of South Asian queers and confronted any negative portrayals of the community.
Through my work with SAHM and building upon the foundations and links established from creating and launching Gaysians, I continue to platform the many charities, community organisations, and support groups that focus on South Asian queers.
My activism has been instrumental in shifting the ground towards an authentic representation of Brown LGBTQ+ peoples, positive recognition of their many achievements, and collectively celebrating the community's successes.
What is the change you would like to see in our community?
I would like to see those with privilege, power, and influence increasingly using these levers, to show solidarity with queer siblings and to dismantle the negative impacts of dominant cultures.
So, we can have a future where we collectively march in solidarity - where every queer person can blossom into the person they were born to be, and where they can focus on happiness as their main priority.

Thanks to National Lottery players