Matt Mahmood-Ogston, founder of Naz and Matt Foundation
Matt Mahmood-Ogston (he/him) is the founder and Executive Director of Naz and Matt Foundation. The award-winning charity tackles homophobia, triggered by religion or culture, to help parents accept their children. The Foundation provides free-to-access support, mentoring, books, videos, and campaigns tirelessly in the local and national media. Their core focus is building bridges of understanding within families where religion or culture is affecting a parent's ability to accept their LGBTQI+ child. The charity was set up in 2014 following the sad loss of Matt's fiancé and soulmate, Naz, who took his own life two days after his deeply religious family confronted him about his sexuality for the first time.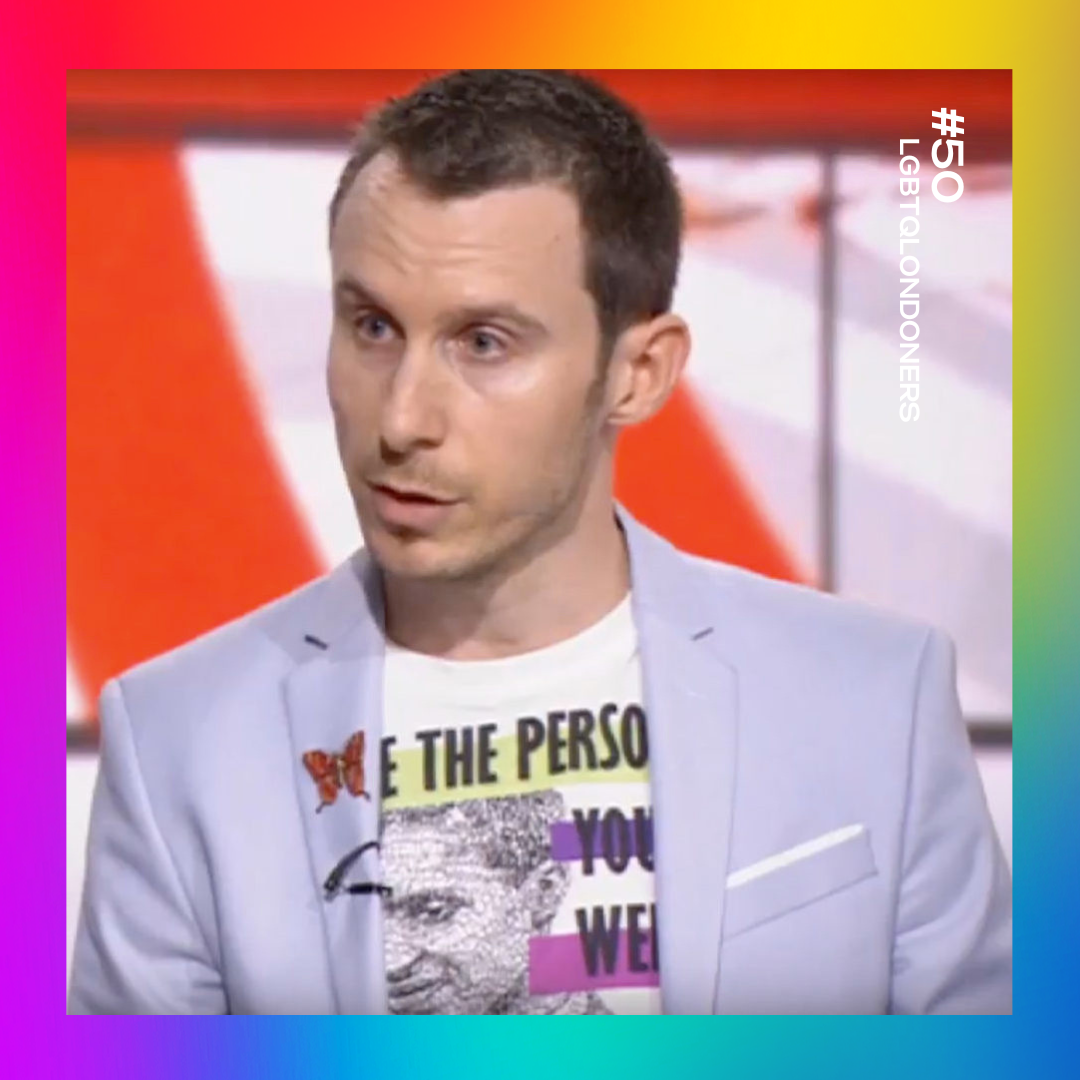 We asked Matt to tell us about how the Naz and Matt Foundation empowers and supports LGBTQI+ individuals, their friends and family to work towards building bridges of understanding and acceptance
One of the things we do most at Naz and Matt Foundation is listen. We listen to lived experiences shared at events. We listen to real life stories shared online. We listen to the hundreds of traumatic, often horrific experiences that are shared with our charity on a regular basis. It's critically important for us to understand, as comprehensively as possible, the impact religion and culture is having on the individuals we support. It's the only way we will ever find a solution. 
When we first started the charity, our core focus was not on providing direct support. However, as the months and years went by, we increasingly received requests for help, guidance or support - many individuals being in similar situations to my Naz. Sometimes friends contacted us who needed guidance on how to better understand and support their LGBTQI+ friend. We received requests from parents who wanted to understand their LGBTQI+ child better but didn't know how or where to begin. Schools, social services, police forces, NGOs and even central government departments started to contact us asking for help to better understand religious and cultural homophobia. 
The majority of our confidential 1-2-1 support and mentoring services are now provided over the phone; however, we also provide a friendly support group every month. Quite often our support clients are forced to hide their real name and identity, fearing what might happen if their parents find out. Each client can receive an unlimited number of sessions, for as long as they need them. The type of abuse and trauma we work with can take years to resolve or reconcile. It's important for our clients know we are here to support them... throughout their journey ahead. 
What was the inspiration behind the creation of the annual campaign "Out and Proud Parents Day"?
My darling Naz sadly passed away on the 30th of July 2014. Every year after this the 30th of July was an incredibly dark, almost impossible day to get through. As we approached the five-year anniversary of losing Naz, I wanted to do something different - to reclaim the day as something more positive. A day when Naz could be remembered, but also a day that could be used to help others. 
Around the same time, we were contacted by a wonderful team of creatives at one of the UK's largest agencies who wanted to donate their time on a project for our charity. After much discussion we came up with the concept of Out and Proud Parents Day, which launched on July 30th, 2019. One of the main creatives behind the project has since joined our board as a Trustee and now helps lead the event every year.  
Out And Proud Parents Day is an annual celebration, held every year on the 30th of July, where we encourage proud, accepting parents to come out on social media, to come out to their community, sometimes even coming out to their own family… to tell the world how much they love and accept their LGBTQI+ child (of any age). We invite parents to share their own photos, videos or messages about their love and acceptance using the hashtag #OutAndProudParentsDay. We also interview a small number of the parents each year on video and share stories across social media.  
The celebration is open to all proud, accepting parents, but we particularly encourage parents from religious or culturally conservative backgrounds to take part. Each year the celebration has increased its audience size, with parents taking part across the UK, North America, and India too. 
Can you tell us about a standout moment or achievement since the inception of the Naz and Matt Foundation that you're especially proud about?
I'm so happy to say there are a number of moments and events that make me proud of the volunteers, trustees and community members who support the work of Naz and Matt Foundation. I'm incredibly proud of Out and Proud Parents Day and all the parents who have taken part. I'm proud of the truly inspirational contributors and crew behind our recent award-winning film - My God, I'm Queer - which was broadcast on Channel 4. I'm proud of everyone who chose to march in their very first pride march with Naz and Matt Foundation, some who were forced to wear masks as they still were not out. I'm proud of the brave individuals who have walked hundreds, sometimes over a thousand miles (@gingerbreadharry) to raise money to help support our vital work.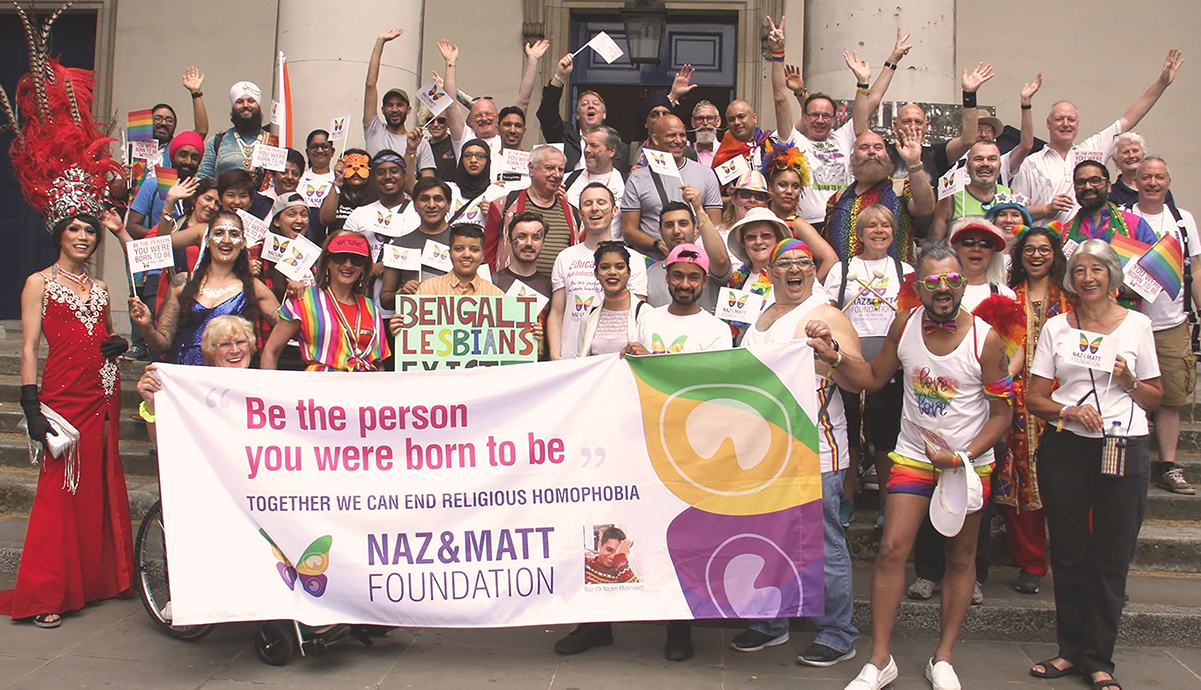 Photo source: Naz and Matt Foundation
But there are two things in particular that make all of our hard work worthwhile: 
1) Our LGBT+ clients seeking asylum often face death or imprisonment if sent back to their country of birth. It's a very happy day when we receive a phone call informing us that they've been granted safety in the UK by the Home Office. 
2) When someone gets in touch to let us know that our support service, or our work in the community, has helped them successfully come out to their family and gain acceptance. 
What is the change you'd love to see in our community?
I've made a lifelong commitment to preventing what happened to my darling Naz from happening to anyone else ever again. Our charity has a long-term mission to remove the barriers that stop parents from accepting their children. 
The change I'd like to see most in the community is for every mother and father, from every religious and culturally conservative background, to proudly accept their LGBTQI+ child, for the person they truly are, and the person they were born to be. 

Thanks to National Lottery players