London Friend has worked in collaboration with other LGBT sector organisations to produce new research on the unmet health and support needs of LGBT Londoners'. Still Out There: an exploration of LGBT Londoners' unmet needs is published today by Trust for London.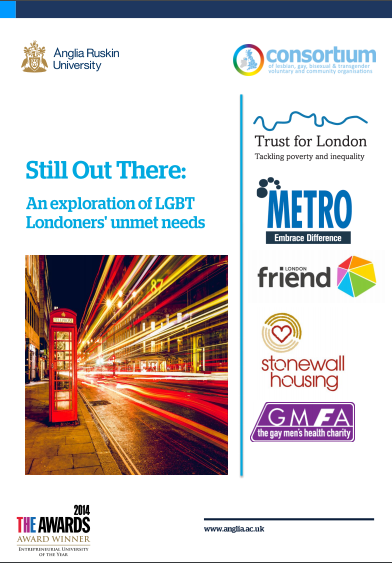 The research has been carried out by Anglia Ruskin University, funded by Trust for London. London Friend joined the LGBT Consortium, GMFA, Metro and Stonewall Housing to support the project.
The research found that LGBT service users are presenting increasingly complex and multi-layered issues to providers, including problems regarding mental health, primary healthcare, housing, substance abuse, safety and violence. These needs are set against a backdrop of inadequate targeted service provision, with the majority of respondents unable to access services within their locality.
The report, which surveyed 158 LGBT service users and 60 service providers in the capital, found that 40% of respondents experience some form of prejudice on a regular basis, with one-third reporting constant concerns over their physical safety, both at home and elsewhere. Additionally, the majority of those surveyed are reluctant to reveal their sexuality and/or gender identity to mainstream service providers, for fear of the reaction.
The research also shows poverty amongst London's LGBT community is a greater problem than perhaps initially thought, with over a third of respondents reporting to be earning less than £15,000 per annum – a figure significantly lower than the London Living Wage of £9.40 per hour.
Service providers highlighted cuts to funding as a major barrier to delivering sufficient specialist services to London's LGBT community. The report shows that decreased provision coupled with an increasing complexity of need amongst a proportion of the capital's LGBT community has led to an increasingly difficult landscape. In many London boroughs, there is little to no LGBT service provision, with users often travelling significant distances across the city to access key services.
Providers did however report a number of activities they have engaged in to overcome the difficulties they face, including cost-cutting, entering into funding partnerships and challenging cuts to funding.
Although the outlook for LGBT service provision is a troubling one, the report points to a number of 'best practice' examples, where providers have reached out to individuals and had a positive impact. One organisation, LGBT Jigsaw, offer an inclusive space for young LGBT people, addressing an array of issues around homelessness, mental health, domestic abuse and personal safety.
For more information and to download the full report or the key findings visit the Trust for London website.