Statement of Support NationalHCAW 2021
by Monty Moncrieff MBE, Chief Executive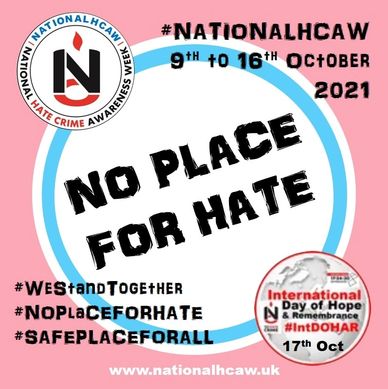 On National Hate Crime Awareness Week 9th - 16th October 2021, we reflect on the increase in division and hatred across our society and the deplorable nature of hate crimes.  Nobody should be targeted because of who they are, and we stand in solidarity against hate crime in all its hideous forms.
As the oldest UK LGBT mental health charity, we are aware of the devastating impact hate crimes have on the mental health and wellbeing of our communities, their sense of safety, belonging, visibility and self-expression.
LGBT+ hate crime is disproportionately on the rise in the UK, but it is trans people who have suffered the most of late: recorded transphobic hate crime has doubled in the last three years with only 1 in 7 trans people reporting their experiences.
The attacks that our trans communities in the UK are being targeted with – online, in the media, and in person are unacceptable. Trans people commonly experience abuse from those who organise against trans inclusion, which often includes misinformation that paints trans people as predatory, deceptive, and immoral. These are the same tactics that have previously been used to target gay, lesbian, and bisexual people and people living with HIV.
The stigmatization, oppression, and discrimination, transgender people encounter have a devastating and long-lasting impact on the community - physically and emotionally. Victims of transphobic hate crimes suffer adverse mental health outcomes with 7 in 10 reporting impact on their mental health from self-harm to anxiety leaving their home, and daily routine affected by transphobia.1
To challenge transphobia and hate crime against the trans community, we need to take a stand of leadership within our communities, require adequate response of recognising transphobia from councils, government, and police, and provide specialist services, support, and practical assistance for those targeted.
1 GALOP Trans Hate Crime Report 2020; Key Findings
If you or someone you know has been a victim of anti-LGBTQ+ hate crime, there are organisations to help you regardless of how you would like to move forward. Please visit our Hate Crime Support list of organisations that support those who have experience anti-LGBTQ+ hate crime.