Real Chemistry - connection, wellbeing and chemsex recovery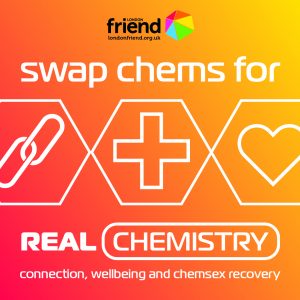 Real Chemistry is a new resource supporting gay and bisexual men moving on from problems with chemsex. Real Chemistry provides men with the support they need to sustain their recovery goals and enjoy better connections, relationships and sex.
Real Chemistry is about connection and wellbeing, rebuilding friendships and engaging in social and leisure activities that may have been impacted whilst using drugs. It's about rebuilding confidence and self-esteem where these have been knocked.
Our website offers 14 new themes related to chemsex recovery, with self-guided exercises to work through at your own pace. The themes are based on workshops piloted by our specialist LGBT drug and alcohol service Antidote.
A workshop manual is also provided for other drug treatment, sexual health or LGBT services supporting men arid during chemsex to use free of charge.
The workshops have been piloted through our Sunday Sessions weekend service and delivered with the support of our partners SASH.

London Friend's Chief Executive, Monty Moncrieff MBE said "We're delighted to offer this new support which focuses on the next steps for men who have decided to make changes. It goes beyond the initial steps of addressing problems with drugs, and helps men to rebuild friendships, relationships, and enjoy better well-being, including sex without drugs".
Antidote Deputy Manager, Mike Meleady said "We really want to thank all those who participated in the workshops, the men who have helped create a community of peers, and who have supported each other through the various themes and topics Sunday Sessions has covered over the past year.  Our thanks also go to the staff and volunteers at both Antidote & SASH, who have supported the delivery of the workshops, and have helped to build a loving, supportive, safe space.".

Real Chemistry - connection, wellbeing and chemsex recovery.
www.londonfriend.org.uk/realchemistry