Our Chief Executive Monty Moncrieff responds to the Government's new Drug Strategy
The Government has finally launched its long-awaited refresh of their Drug Strategy today, an update on the 2010 Strategy published under the Coalition. There's much to welcome, including a greater emphasis on recovery for those who have experienced drug problems, although the Strategy stops short of any moves to decriminalise drugs, rooting the overall policy in law enforcement rather than health.
For the first time, the harms of chemsex are explicitly addressed, placing the issue among a number of priority concerns, including use by vulnerable young people, sex workers, and homeless populations. An emphasis is also placed on novel psychoactive substances (NPS) – popularly known as 'legal highs' – which have become a particularly acute problem in prisons.
The strategy also addresses a recorded increase of drug related deaths. Whilst most of these relate to opiate use, research last year reported a 119% increase in deaths associated with GHB/GBL in London with most linked to chemsex. That's about 1 gay man dying every 12 days in the capital.
The acknowledgement of the harms chemsex can cause is a significant move, and the strategy pledges that Public Health England will produce good practice guidance for local commissioners and providers, which will encourage greater collaboration between services and community groups to meet need.
This is a hugely welcome step forward, which helps those of us providing specialist chemsex support underline the need for services that understand the specific issues for men whose chemsex use becomes a problem. However, the acknowledgment comes without a single mention of gay, bisexual or other men who have sex with men, or of a wider LGBT focus in drug treatment throughout the Strategy.
I'm disappointed by this omission, which is a retrograde step from the 2010 Strategy. Chemsex represents an important section of drug use with LGBT populations, but we know levels of other drug and alcohol use are higher across LGBT populations and the Strategy offers no focus for them.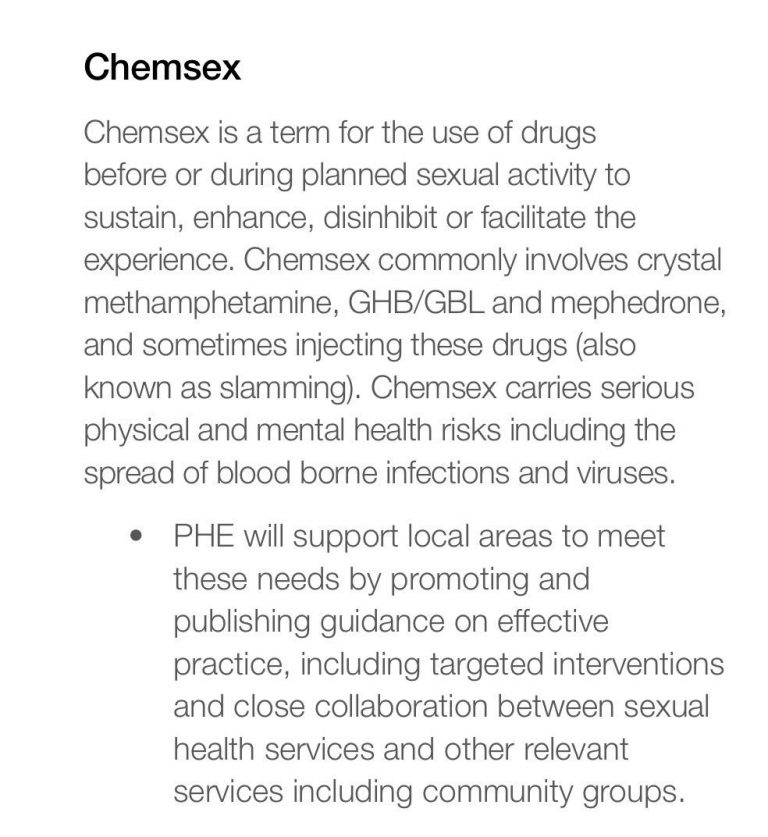 At Antidote we know that LGBT people place enormous value on having services that are targeted towards them; that understand the complex issues of sexual behaviour, identity, belonging and esteem that often accompany problematic chemsex. 94% of our clients told us it was important to have an LGBT service, and only 12% say they'd feel comfortable going to mainstream treatment.
There's an urgent need for drug and alcohol treatment services to understand the lives of chemsex users; how they use their drugs; and the sex they have whilst doing so. Through our Antidote service we've trained hundreds of health care staff and developed guidance such as our Out Of Your Mind report, which contains recommendations and toolkits for commissioners, drug treatment agencies, and frontline staff.
The NEPTUNE Clinical Guidance provides the most comprehensive clinical guidance for those working with NPS users, and the guidance comes with a supplementary chapter on LGBT use, including chemsex.
We've also begun working with drug treatment agencies in London through the London Chemsex Network, through which we'll share knowledge, good practice and resources to work together to support those affected by problems with their chemsex use.
We know that some drug treatment services have already worked hard to respond to chemsex, often working with sexual health clinics or local LGBT services, an approach we've taken through our partnership with the CNWL Club Drug Clinic and with 56 Dean Street. Whilst other areas have work to do we've been working to extend access to support through our Friday/Monday pilot with Terrence Higgins Trust to offer counselling and groupwork online. In London our face-to-face services offer everything from brief advice to our ChemCheck and SWAP group programmes.
Our advice to men engaged in chemsex is to make sure you're as informed as possible about the potential risks and take steps to reduce the risk of HIV and other STIs. More than with any other recreational drugs, the three main chemsex drugs (mephedrone, crystal methamphetamine and GHB/GBL) seem to catch more people out, and become problematic even where they may have used other drugs whilst clubbing for many years, so if you feel things might be starting to get out of hand seek some advice early, and before things get worse. We can help you stop completely, or to cut back to a level you're happier with.
Monty