UPDATED 18th September 2020
Due to social distancing requirements London Friend remains operating only remotely and we are unable to provide any in-person services right now, but we're still here for you if you need support.
Many of our services remain operating online. See below for the latest updates on each of these, as well as some additional resources and links to help manage your wellbeing. You can find the latest NHS information about the corona virus here.
You can read a message from our CEO Monty Moncrieff MBE as we entered lockdown here.
Mental Health and Counselling
We have published information to help manage your mental health and wellbeing during lockdown: you can find this here.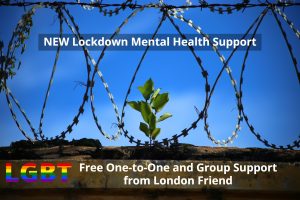 NEW: We can now offer free one to one support to help manage your mental health and wellbeing during lockdown. For more information and to make a referral click here.
NEW: Our 4-week Lockdown Remedy Group offers support to manage your mental health and wellbeing with other LGBTQ people. For more information and to make a referral click here.
Counselling: Our face to face counselling is currently suspended but we are providing counselling via video where it is practical for our counsellors and safe for our clients to manage this confidentially.
We are currently taking new referrals for video counselling only.  You can read more about this low-cost service here. To make a referral please email counselling@londonfriend.org.uk.
Our specialist domestic abuse counselling service remains open for referrals (though has a waiting list of several months). You can self-refer via the London LGBT Domestic Abuse Partnership here.
Our SASH Partnership is offering a range of wellbeing interventions, including LGBTQ specific support. Find our more and sign up here.
In this video Mike from our Antidote team and Katy, a mental health nurse who works with us in our Axis clinic, discuss anxiety: why it's completely normal to experience anxiety, and some tips for dealing with it during the lockdown.
Antidote Drug and Alcohol Service
Our Antidote service remains open providing support online and via email. To make a new referral to the service please email antidote@londonfriend.org.uk
Our Antidote drop-ins are running online on Mondays from 11am - 1 pm and Thursdays from 6 - 8pm. You can access peer support and short one-to-one sessions. PREREGISTRATION IS ESSENTIAL. Existing clients can request the link by email; new clients will need to complete an assessment before the session.
NEW Back On Track is our new relapse prevention group to help you manage if you feel at risk of relapsing from your drug and alcohol goals during lockdown an as society begins to reopen. Find out more and make a referral here.
Our  Sunday Session workshops now are running online twice a month on Sunday afternoons. Sunday Session is a workshop series aimed at supporting gay and bi men who are maintaining their goals to move on from problematic chemsex use. Email Mike to register: mike@londonfriend.org.uk
SWAP Peer Support group: this is now running online. This group is an aftercare group for men who have completed our SWAP programme. If you would like to join this group please email Mike: mike@londonfriend.org.uk
RUNNING AGAIN - The AXIS Clinic is a chemsex and sexual health clinic based at the Caldecot Centre in Camberwell. It's a partnership between Antidote and two NHS services: Kings College, and South London & the Maudsley (SLAM) NHS Trusts. It offers a holistic approach to chems, sexual health and mental health. At present we're offering referrals for online chems support. If you're a patient at the Caldecot Centre or the Camberwell Sexual Health Centre ask your worker to refer you: Wednesdays 4 - 7pm.
To support yourself at home, we have created an Antidote Home Care page with some resources to help you make changes from home, support yourself at difficult times, and links to our drug & alcohol harm reduction information.
We have also published advice on chemsex and hook-ups during lockdown.
Public Health England has published information about stopping drinking for people who are dependent on alcohol.
Our Antidote Deputy Manager, Mike, is in conversation with Justin from our partners GMFA talking chemsex, corona virus and the lockdown in this video:
Support and Social Groups
Many of our support and social groups are suspended due to measures to implement social distancing. We're adding more online , so please check back for any updates. Those currently running online are listed below:
Coming Out - you can see two new videos recorded by our Turning Point group volunteers talking about coming out and read more information on our coming out page.
Turning Point, our coming out group for gay and bisexual men, is running an online group at 7pm on the second and fourth Wednesdays of each month. Pre-registration is essential - email turningpoint@londonfriend.org.uk
Mattrix is our social group for gay and bisexual men. The group will run at 7pm every Thursday. Pre-registration is essential - email mattrix@londonfriend.org.uk 
CrafterZoom - our regular crafternoon group for LBT women will run online on the second Saturday of each month from 1 - 2.30pm. Please email Clare in advance to register and get the link clare@londonfriend.org.uk
T on Tuesday is our group for trans and non-binary people. It runs at 8pm on the second and fourth Tuesdays of each month. Please email tontuesday@londonfriend.org.uk in advance to pre-register and get the link.
The groups and meetings run by other LGBT organisations which we host at London Friend are also suspended - please contact your group's organiser for any updates from them.
Domestic Abuse
There are many report of an increase in domestic abuse since the lockdown started. London Friend is a member of the London LGBT Domestic Abuse Partnership, a multi-agency service offering different kinds of support. London Friend provides specialist counselling and workshops as part of this. For more information and to make a referral visit the LGBT DAP website here.
Our partner Galop, the LGBT+ anti-violence charity, has produced new resources for LGBT people who have experienced domestic abuse, and for the professionals supporting them. You can access these here.
In this video our LGBT domestic abuse counsellor Jaye discusses how to recognise signs of domestic abuse and some of the support that is available.
Contacting the service
Staff are working remotely. Please bear with us whilst we implement these arrangements over the coming days. During this time we are not able to respond to phone calls. If you have an urgent enquiry please email us as follows:
We'll get back to you as soon as possible.
Your own wellbeing
It is important we look after ourselves and each other during this difficult time. You may find this information from Mind, the national mental health charity, and this from the Mental Health Foundation helpful.
Our partners Outlife have put together this information about supporting other LGBTQ people during the corona virus crisis.
House of Pride has produced this LGBT+ Guide to Self-Isolation.
Switchboard, the LGBT+ helpline, has produced this Emotional Wellbeing Support Pack.
LGBT Foundation has produced this Wellbeing Hub.
Terrence Higgins Trust has published this advice on sex whilst managing Covid 19 risk.
Other support services
Switchboard – the LGBT+ Helpline
Opening Doors London telefriending for over 50s
National LGBT+ Domestic Abuse Helpline
The Outside Project's LGBTQ mutual aid Facebook group
Narcotics Anonymous online meetings
Information
Terrence Higgins Trust - information for people living with HIV
Covid 19 tips on PrEP, sex and more from Prepster 
National AIDS Trust - employment advice for people living with HIV
AKT information for young LGBTQ people at risk of homelessness